CALAMINTHA NEPETA SSP. NEPETA - LESSER CALAMINT
Calamintha nepeta ssp. nepeta is an excellent garden perennial notable for its adaptability, durability, very long flowering period and attractiveness for many pollinators. Named perennial of the year 2021 (announced by Perennial Plant Association, USA), it's still unknown in landscaping in many parts of the eastern USA, which is why I decided to re-introduce this plant. If you haven't seen it in American gardens, don't worry because this perennial star was hardly used in European gardens some 15-20 years ago.
Calamint originates in Europe and its natural range is fairly wide - from west Britain to the Mediterranean region (including NW Africa and N Turkey) to Caucasus region and Ukraine.
White flowers are rather small and in certain light can have a bluish hue. Small nearly round leaves are highly aromatic with refreshing cala-minty scent – this is why this plant deters deer and rabbit, even when the deer pressure is very high. Other pests avoid it too.
Calamint is a clump perennial and stays in clumps, the base just get bigger and wider, but it doesn't sucker or spread. Mounds are usually regular, upright and don't exceed size of 1.5' of height and width. In less fertile soil plants are smaller, usually slightly around 1'. The plant reminds of a cloud of tiny white flowers.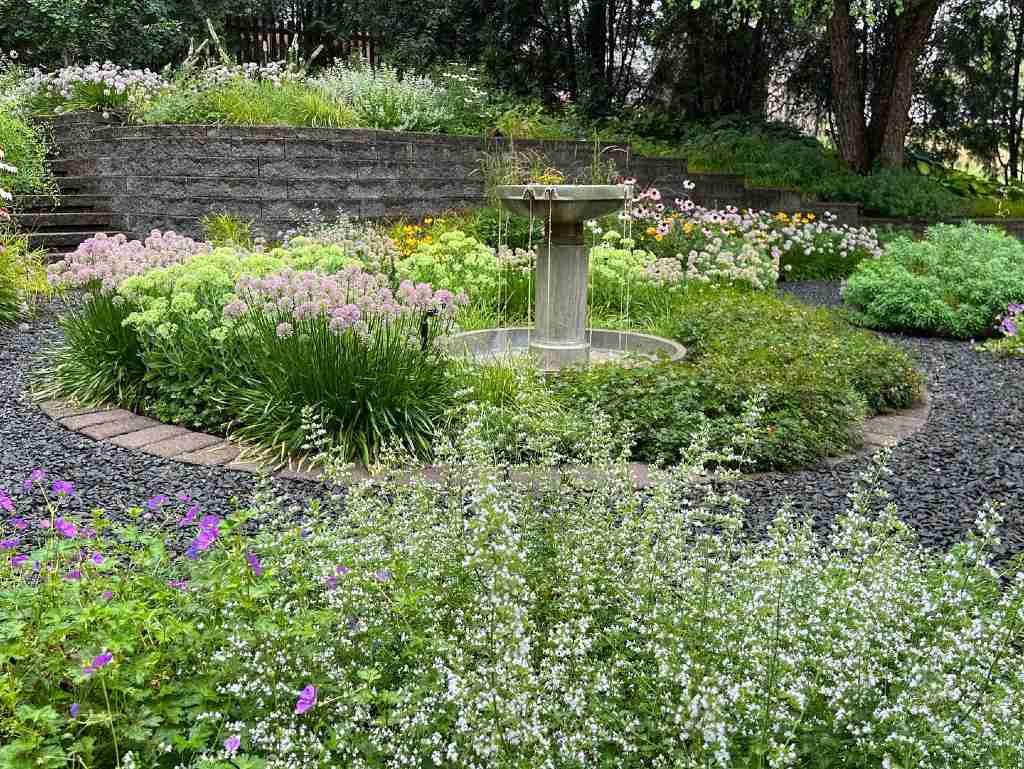 Lesser Calamint in smaller private garden, with Geranium 'Azure Rush' (possibly) and Allium 'Summer Beauty' in the mid summer. Carroll, Iowa. © Austin Eischeid Garden Design
Calamint thrives in the sunny location with average soil and average moisture (medium to medium-dry, up to dry soil). The plants will tolerate half shade, especially if the soil is drier.
The tolerance to drought is obvious, surprisingly plants are also tolerant to heat and humidity (although they are not really perennials for deep south).
The only soil we should avoid is cold, wet, and waterlogged. Otherwise calamint will adapt to any soil from slightly acidic to alkaline, sandy, clay or shallow soil; however, somewhat drained soil is the best.
We tried in lean soil, and it does grow alright, but doesn't reach its full size and potential, so moderately to slightly fertile soil is recommended (with some added compost or organic matter). Can be grown in USDA zones 4/5 to 9 (in zone 4 only with proper drainage). In the warmest regions of its growing range, it will appreciate some afternoon shade.
In the first half of the season, clumps are small and dense, prolonging growth with branches bearing the flowers starts during June, with the peak in full and late summer. Calamint is blooming machine and will be stopped only by regular frosty weather in late fall. Calamint blooms for a very long time, which many perennials don't flourish with. Toward the end of summer, it can look a bit beaten up, so you can cut it back about 1/3, which leads to lush new growth. The plants are self-cleaning – the spent flowers just drop off and don't disturb the good look of the plant. Simply this is a trouble free and low maintenance plant, the only work with it is really just to cut it back in pre-spring.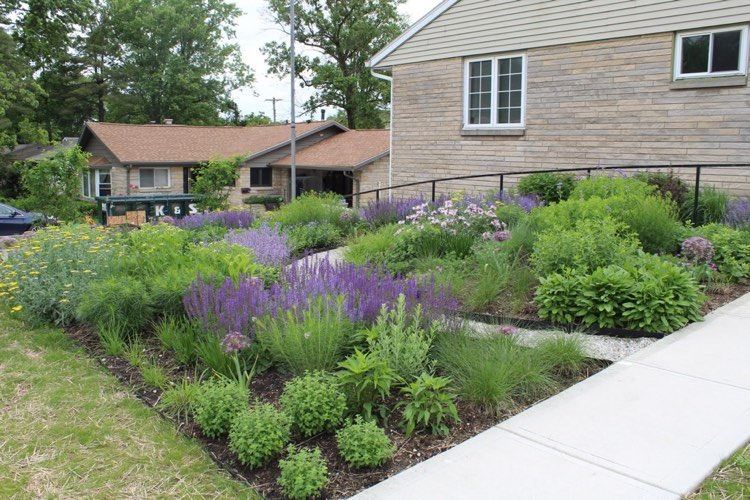 Lesser Calamint around mid May, Bloomington, IN, zone 6 (in the front tip of the bed) - in the early season calamint forms small dense mounds © Andrew Marrs Garden Design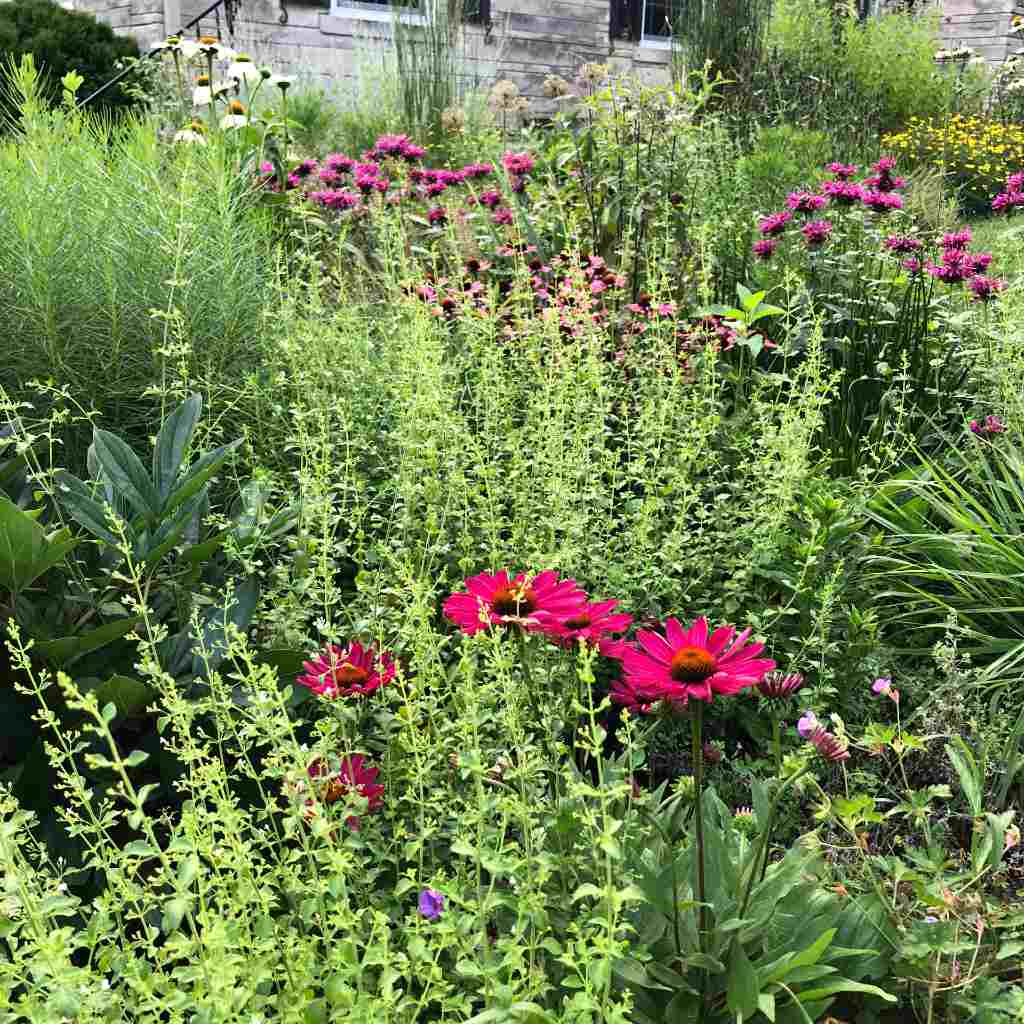 Lesser Calamint around late June. The stems are prolonging and budding, but the show hasn't started yet. On the picture with flowering Echinacea 'Kismet Raspberry' (front), 'Pixie Meadowbrite' (lower in the back), 'Alba' (tall white in the back) and Monarda 'Grand Marshall'. Andrew Marrs Garden Design, Bloomington, IN. © US Perennials
As a Mint family plant, Calamint offers abundance of nectar and pollen and for very long time (which is also important feature for pollinators). It's buzzing with many species of pollinators (from honeybees, several species of native bees, small butterflies, up to hummingbirds (but personally I haven't seen hummers around it).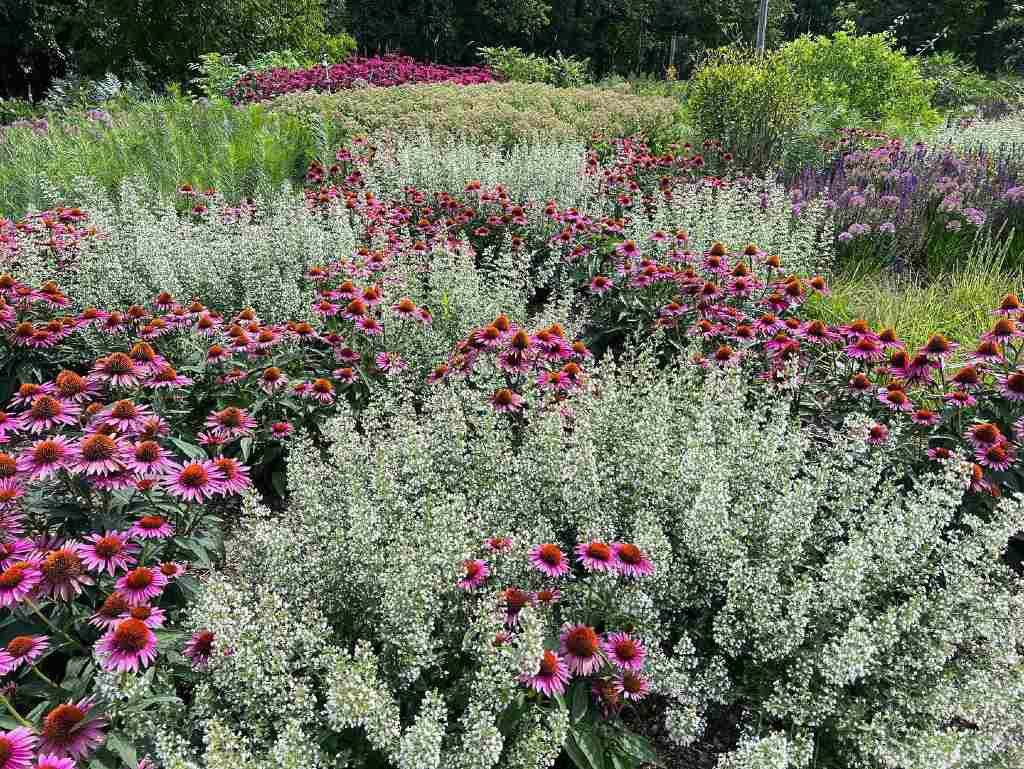 Lesser Calamint in the peak of full summer, stunning combo with Echinacea purpurea cultivar, Midwest Groundcovers, St. Charles, IL ©Austin Eischeid Garden Design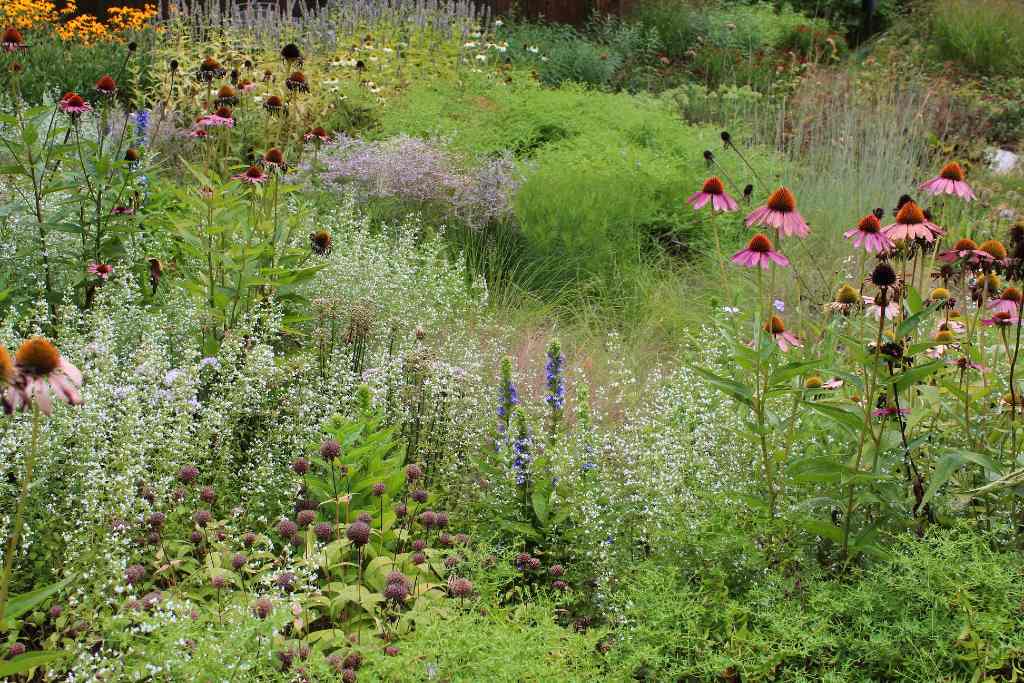 Soft white clouds of Calamintha nepeta 'Montrose White' in naturalistic garden, flower power of the late summer (about end of July to mid August). Seedheads of Monarda bradburiana in the front, flowers of blue Lobelia siphilitica, on the sides Echinacea purpurea, purple cloud of Limonium latifolium (further back) and yellow Rudbeckia fulgida var. sullivantii 'Goldsturm' (far back). Bloomington, IN. © Andrew Marrs Garden Design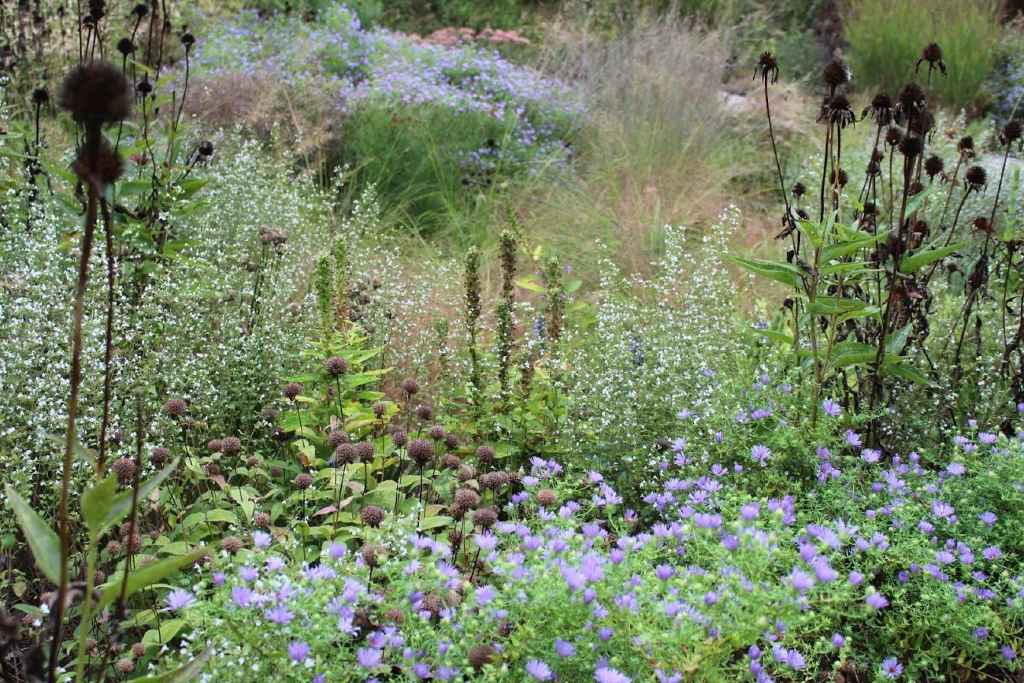 Calamintha nepeta 'Montrose White' - nearly the same view in the same garden (as picture above), early to mid fall. Notice that all the summer flowers are spent, fall asters are on the stage (Aster oblongifolius 'October Skies').and the calamint - the blooming machine just goes on. Bloomington, IN. © Andrew Marrs Garden Design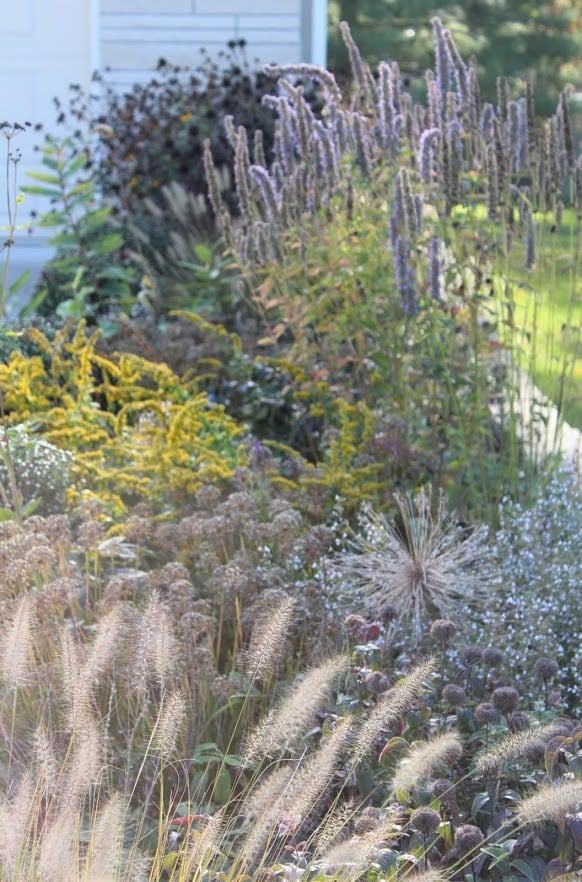 Another late summer picture with cultivar of Pennisetum alopecuroides, seedheads of Monarda bradburiana, Allium 'Millenium', Allium christophii, flowers of Agastache 'Blue Fortune and Solidago sphaecelata 'Golden Fleece'. Bloomington, IN. © Andrew Marrs Garden Design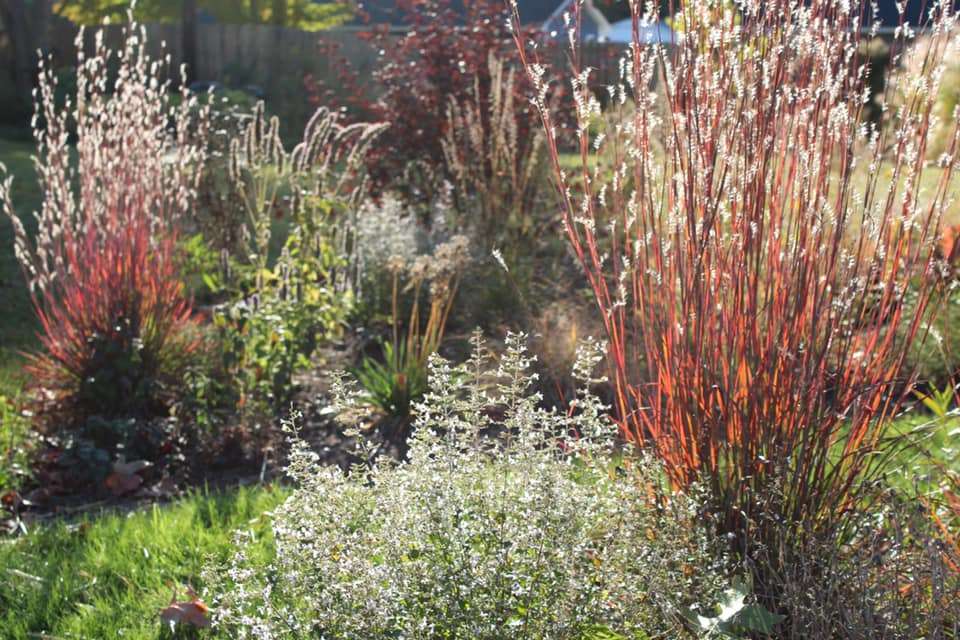 Calamint towards the end of the season (notice less flowers on the stems), on the picture with fluffy seadheads of Schizachyrium scoparium 'Standing Ovation' (Little Bluestem) © Andrew Marrs Garden Design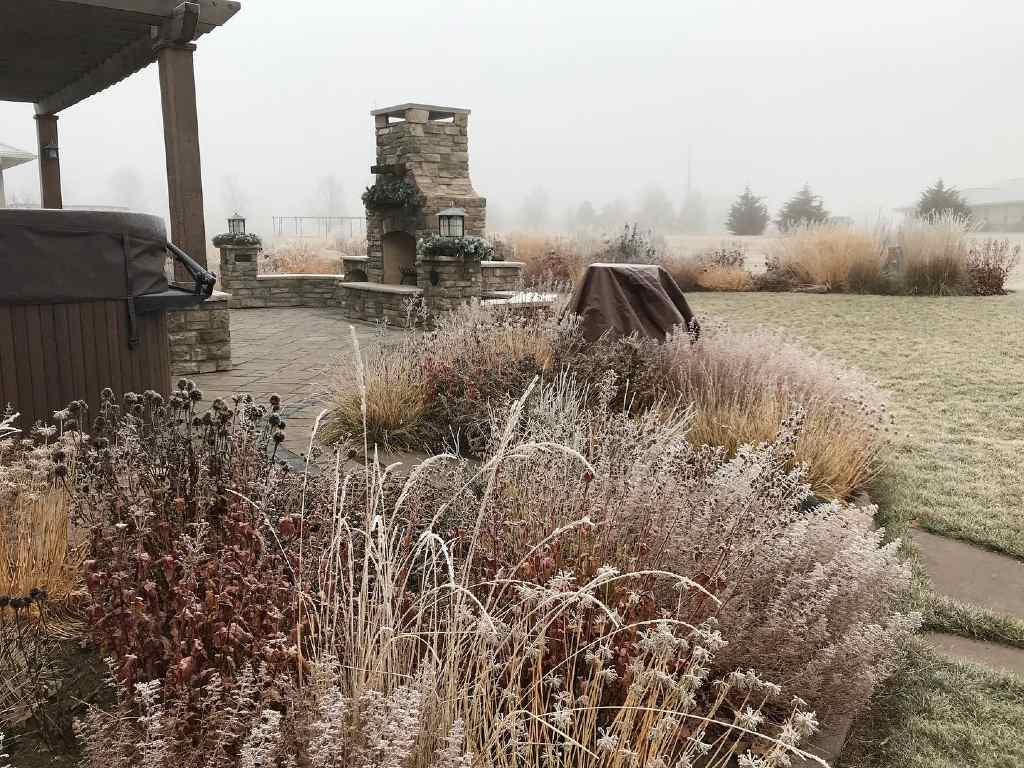 Calamint with the frost in the early winter, the clumps still keep the soft cloudy appearance © Austin Eischeid Garden Design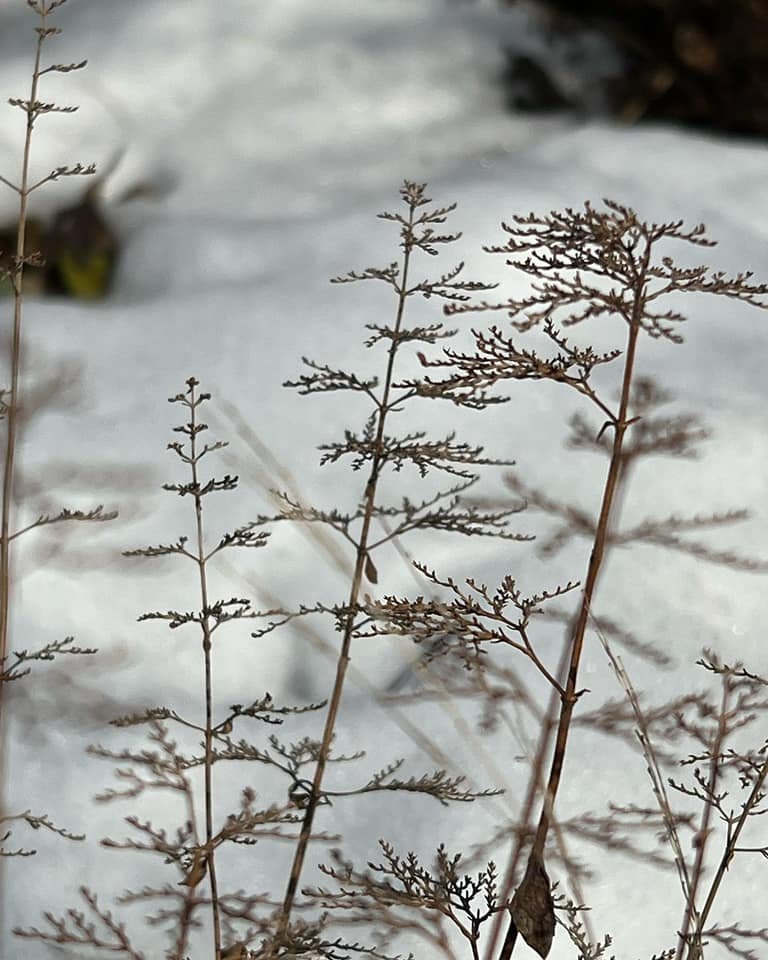 Lesser Calamint will keep the structure even in the snow and throughout the most of the winter. ©Richard Thomas, Oudolf Garden Detroit
BUY THESE, DON'T BUY THOSE
The merits of lesser calamint are lowered some by the potential invasive tendencies. But here, we have to uncover the truth and reveal a little of the botanical differences of the subspecies. They all look very similar, but the behavior differs.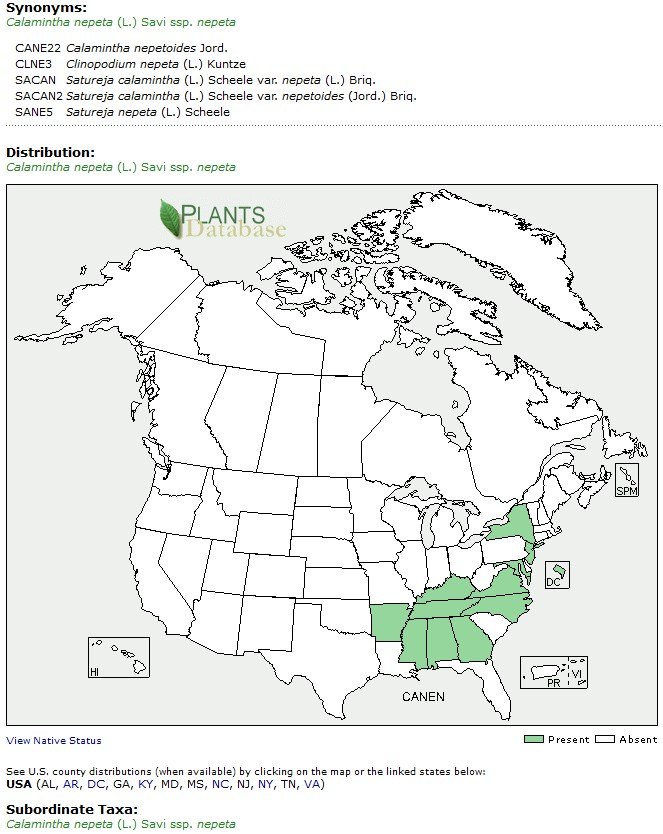 Snapshot from Plants USDA (unfortunately without possibility to zoom in). Map shows which states monitored lesser calamint as a plant that escaped the cultivation. Despite the used scientific names, it is most likely the prolific seeding form of Calamintha nepeta ssp. glandulosa

Subspecies (abreviation ssp. Or subs.) is ranked below species and describes usually some differences from the species which is always connected with isolated geographical range and always connected with different appearance, size of flowers, height etc.
Calamintha nepeta ssp. nepeta – this subspecies is described as more vigorous, a bit more compact, with larger flowers, better garden performance and is STERILE! Since it is sterile, it doesn't produce any seeds and has to be propagated clonally from stem cuttings. In my entire horticultural career, I found only one single seedling of this plant, so we can say it's ("nearly" ) trully sterile.
The significant difference are also in leaves of the ssp. nepeta = leaves that are more or less SHINY/GLOSSY. This is a safe and excellent, highly recommended garden plant.
From this subspecies was also selected :
Calamintha nepeta 'Montrose White' (the full name should be C. nepeta ssp. Nepeta 'Montrose White') - another excellent sterile garden plant, with simlar look, maybe with little more pointy stems :
'Montrose White' was awarded Perennial of the Year by the Wisconsin Nursery Association in 2010. It was named by Mike Yanny of Johnson's Nursery in Menomonee Falls, Wisconsin whose wife had purchased it from Nancy Goodwin at Montrose Nursery. "It is a clump-forming compact plant that is covered with tiny, white, fragrant flowers from June to October. 'Montrose White' is sterile and will not self-seed, although if propagation is desired, it roots easily from cuttings. It grows 1 to 1.5 ft. tall and wide." Missouri Botanic Garden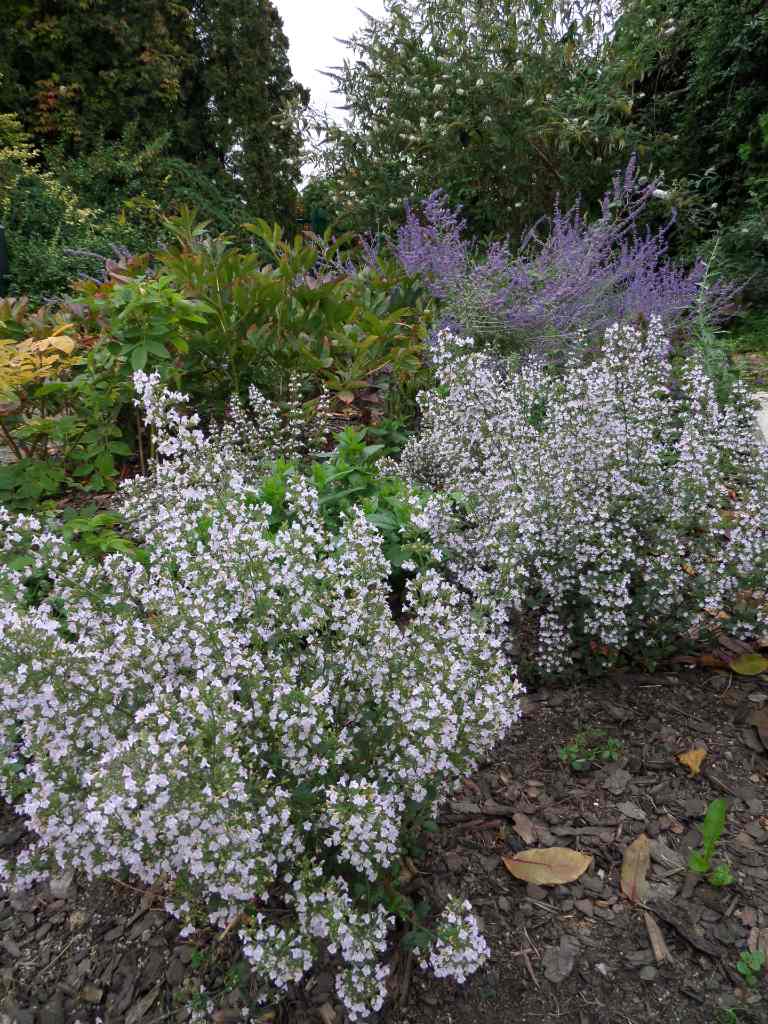 Calamintha nepeta ssp. nepeta 'Montrose White' - sterile and safe plant © US Perennials
Another similar looking ssp. nepeta is sterile cultivar 'Triumphator' (full correct name would be C. nepeta ssp. Nepeta 'Triumphator') which is available only on European market.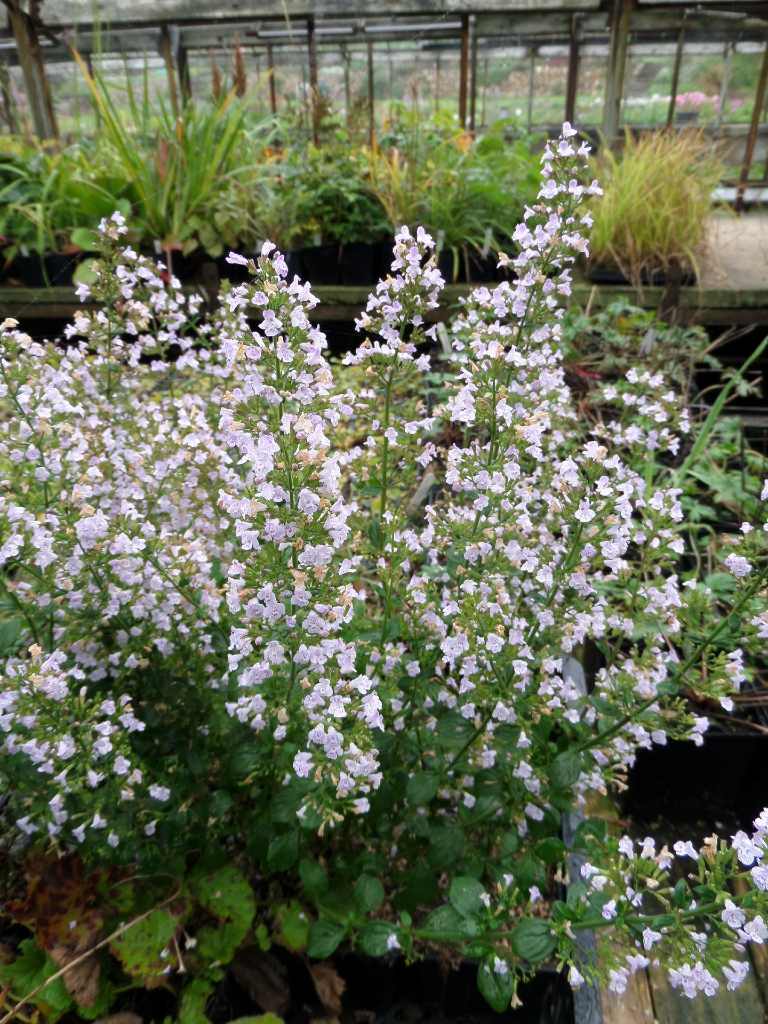 Calamintha nepeta ssp. nepeta 'Triumphator' - sterile and safe cultivar, but available mostly only in Europe © US Perennials
But on the American market are also available the seed-propagated cultivars that all originate from Calamintha nepeta ssp. glandulosa (means "gland bearing").
This subspecies is easily recognizable through the velvety-fuzzy leaves. The leaves have no shine. The clumps can also get more wider (but you'll notice that only if you can compare it with ssp. nepeta).
POSSIBLE INVASIVE CULTIVARS

With ssp. glandulosa you will find many seedlings around the original plant in the soil and especially in the gaps between pavers, steppingstones, along the paths etc. Seeds are tiny and germinate readily. This is the calamint with invasive tendencies and it comes in several cultivar forms (that are incorrectly named as the subspecies nepeta).
'Blue Cloud' or 'Blue Cloud Strain' – seed propagated, heavily seeding, bluish flowers. Correct name should be Calamintha nepeta ssp. glandulosa 'Blue Cloud'.
Calamintha nepeta ssp. glandulosa 'Blue Cloud' - seed propagated cultivar that can seed heavily around. Not safe and not recommended for American gardens. As you can notice all the calamint cultivars and subspecies look very similar or nearly the same. 'Blue Cloud' has the most bluish flower color and the flowers can be a bit smaller. The subspecies glandulosa has noticably less shiny and lot more fuzzy leaves © US Perennials
'White Cloud' (or 'White Cloud Strain') – white form, (possibly) heavily seeding, not recommended for American gardens
'Marvelette White' and 'Marvelette Blue' = dwarf compact forms, grown from seeds, so seeding is expected to happen too (even when the dwarfs are usually less vigorous). I haven't tried these personally, but I expect the seed to germinate readily as well.
You can actually also get the species of Calamintha nepeta (seeds or plants), which is seed propagated plant and you should expect heavier seeding too.
USE IN THE GARDEN
Calamint is universal-use plant and great filler plant for the front or middle of the sunny or mostly sunny bed (up to half shade). The look is fine, cloudy, so any other plant will contrast well with the calamint. This includes even grasses with narrow leaves (these have very fine structure too). Universal use means that you can plant in combination with any sun perennial – starting with plants that do like some moisture like phlox paniculata hybrids or daylilies, to plants that are more on the dry scale or up to nearly xeriscape/ dry soil planting, groundcovers or even with rock garden plants.
Use calamint in the front or in the middle of the flower bed. Longwood Gardens, PA. © US Perennials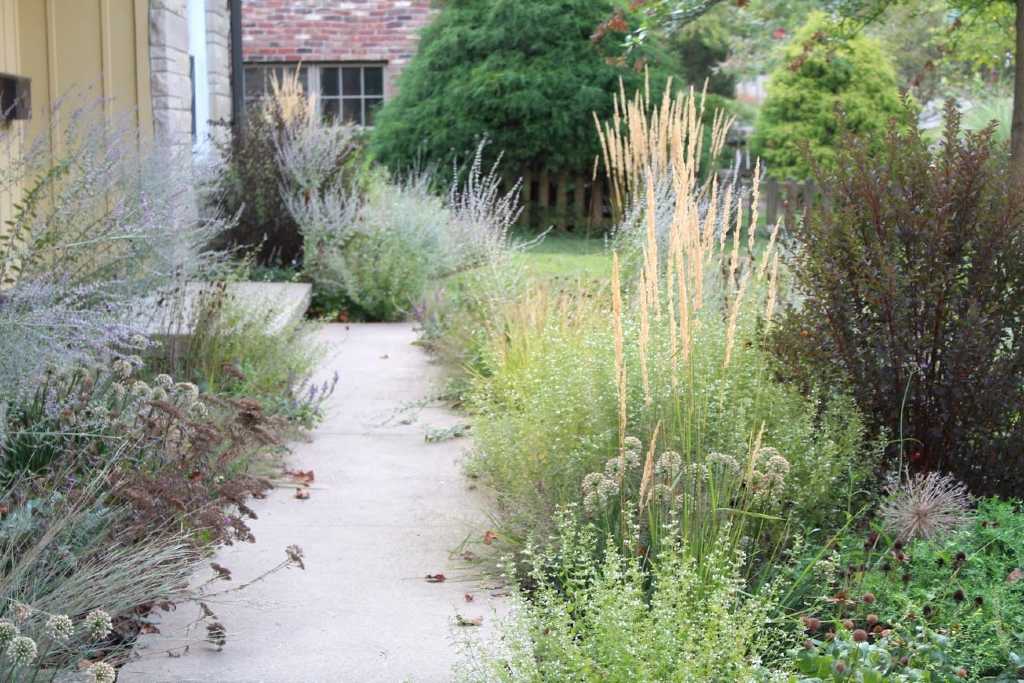 Calamint fits into smaller gardens. Due to it's size it works well along the paths and patios. © Andrew Marrs Garden Design

Calamint can be used along paths, patios, in bigger containers, in beds, bigger rock or crevice gardens, cottage gardens, pollinator gardens, slopes, on the edges of retaining walls or white-themed (moon) gardens. Its indispensable in naturalistic gardens. There's simply nearly no limitation.
Don't forget about herbal properties of calamint and adding it to your herb garden - dried or fresh leaves can be used for teas or potpourri (as they were in Mediterranean since Medieval ages). Calamint has antimicrobial, antioxidant, and anti-inflammatory properties, as well as anti-ulcer and insecticidal properties. It also had been used for stomach weakness, depression, insomnia and painful menstruation.
HOW TO COMBINE
What seems to be a certain rule is the fact that calamint is not individual single standing (solitaire) plant, it's beauty will be more obvious if combined with other plants with more rough structure.
Famous plantman Roy Diblik recommends Calamintha combos with plants that go well and look well together (go well due to its growth rate, shape and needs), here are some of them. What is great that calamint goes well with many native plants:
+ Allium 'Summer Beauty, Allium 'Millenium' or other summer blooming perennial ornamental onions.
Planting at Midwest Groundcover, St. Charles, IL. Design and © Austin Eischeid Garden Design

+ Sesleria (autumnalis or other similar sized one)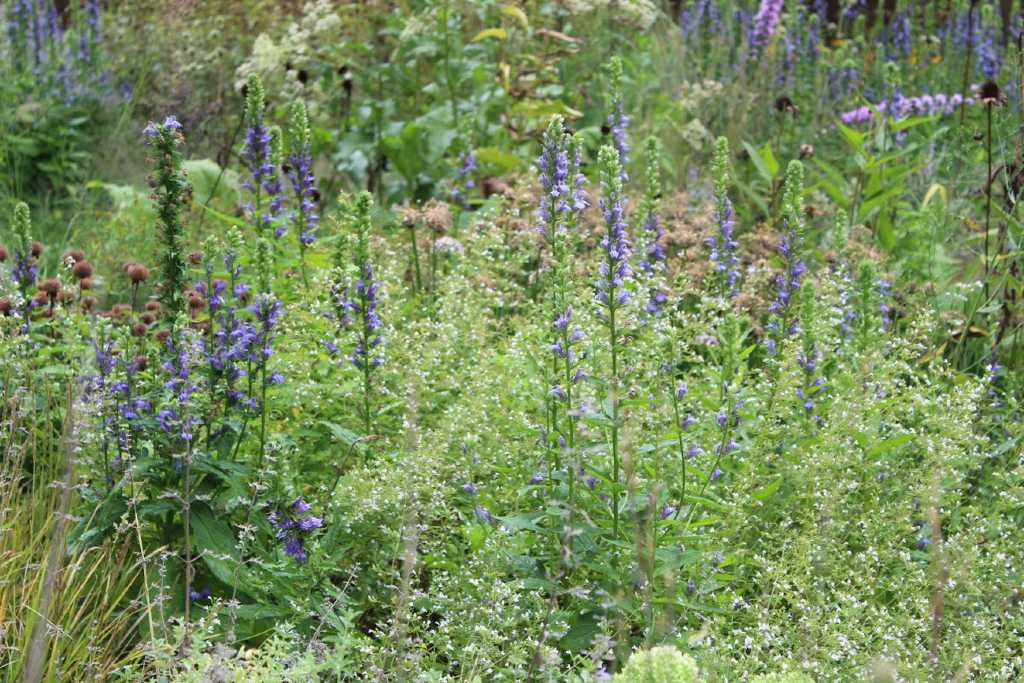 + Lobelia siphilitica. Natural look of Lesser Calamint goes very well with many shorter native wildflowers and grasses
© Andrew Marrs Garden Design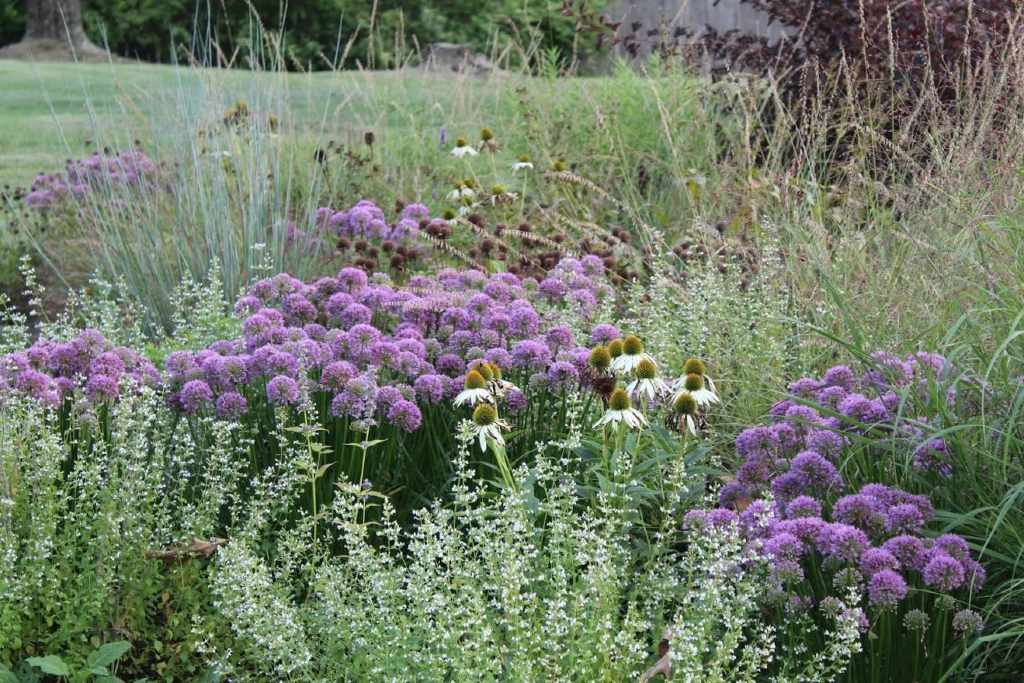 + Echinacea or + Echinacea cultivars + Allium 'Summer Beauty'(and other summer Alliums). On the picture is Allium 'Millenium' © Andrew Marrs Garden Design

+ Silphium terenbinthinaceum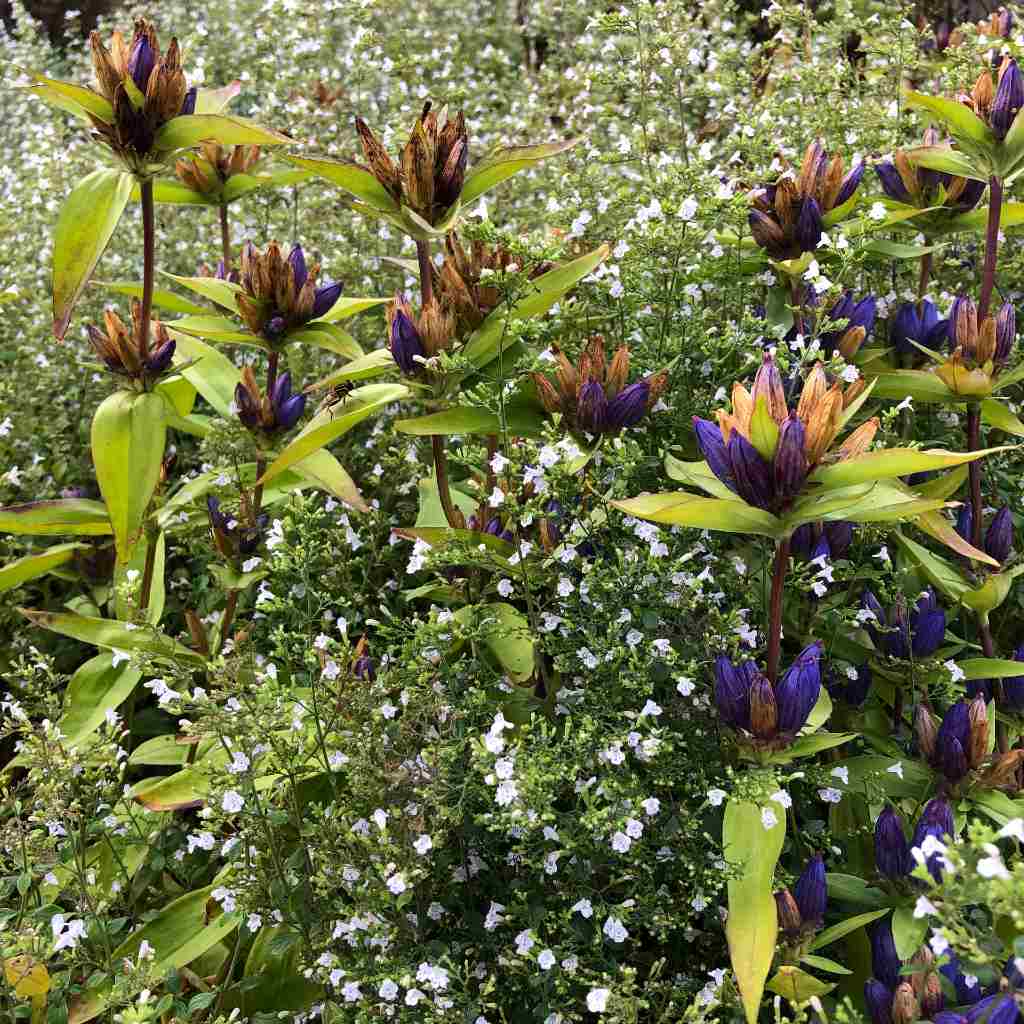 + Gentiana andrewsii. Picture from Lurie Garden, Chicago, IL. © US Perennials
The list of combinations can be much longer, I would also suggest combination with Aster novae-angliae 'Purple Dome' (Or 'Vibrant Dome') and other fall asters, with bearded Iris, Monarda bradburiana, reblooming Salvia nemorosa cultivars, Sedum telephium (see the pic from Longwood Gardens), Stachys byzantina, etc.
It's a wonderful companion for reblooming roses. It always looks well combined with smaller or medium-sized grasses too.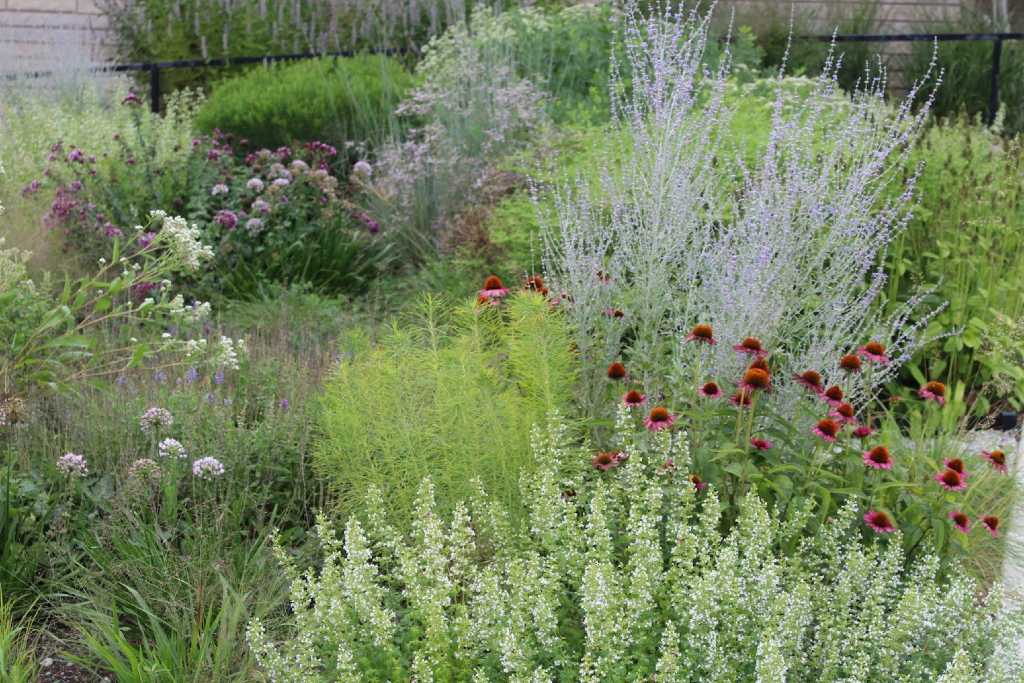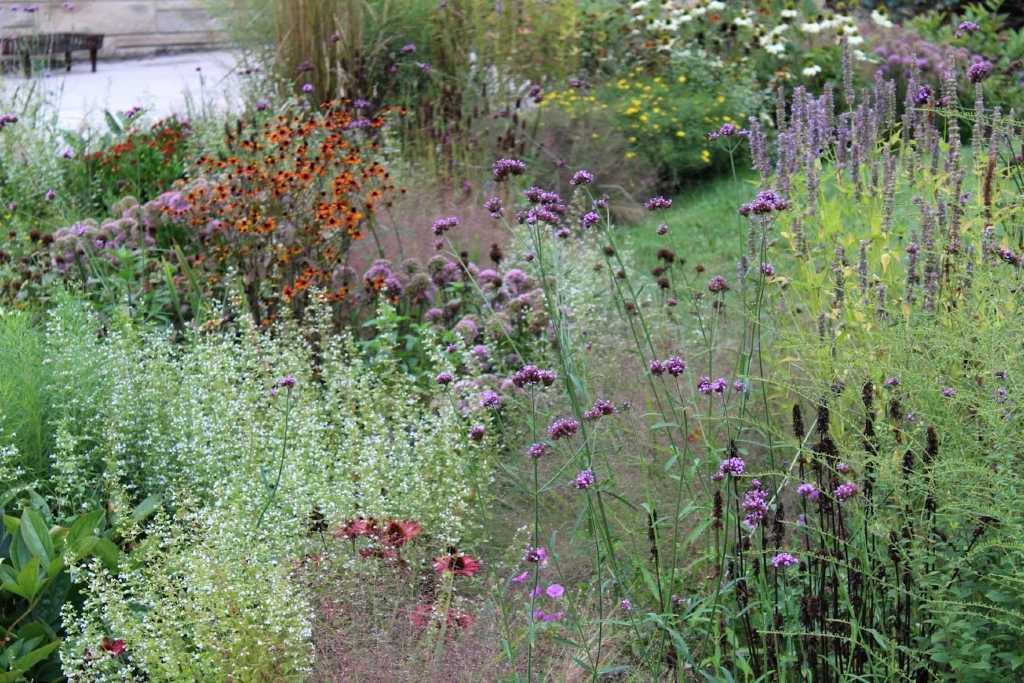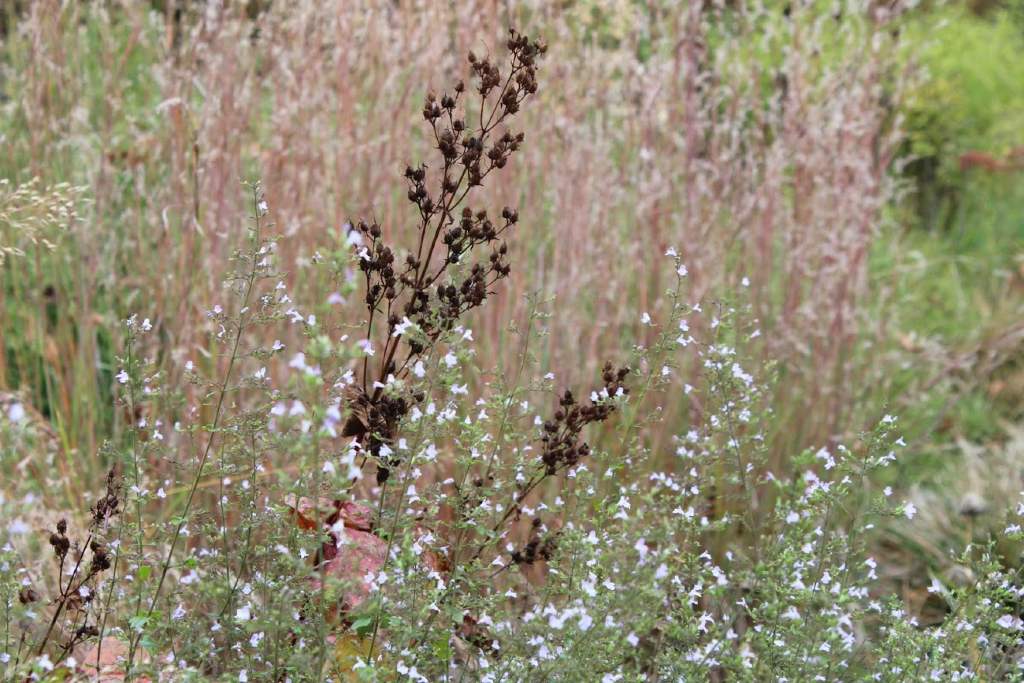 Due to long and late flowering season, Calamint contrast well with dark brown or black seedheads of plants like Echinacea, Stachys officinalis hybrids or even relatively tiny seedheads of Penstemon digitalis (on the picture).

©Andrew Marrs Garden Design