CZECH GARDENER SHARES PLANT KNOWLEDGE IN NEW BLOOMINGTON BUSINESS
Growing up in the Czech Republic, Radovan "Rad" Hajek loved to watch his grandmother work in her colorful flower garden. "Since I can remember, being about 4, she always had a beautiful front garden full of flowers, perennials and annuals," he says.
"One of my very early memories with flowers was drawing pictures on the concrete with the flower buds of spiderwort, Californian poppies and moss rose," he adds.
Rad also would trail along after his parents as they tended their large vegetable garden. "My father taught himself how to graft fruit trees and berries, how to grow vegetables from seed and how to make us self-sufficient. I was nibbling on fresh fruits and vegetables from spring to late fall."
However, when family and friends would ask the young boy what he wanted to grow up to be, Rad always answered, "An electrician, as my father."
It wasn't long, though, that Rad realized he was not "a technical-type person. I'm very nature- oriented." The seeds for his future had been planted in Rad's childhood.
After graduating from high school, Rad was accepted into the prestigious Czech Republic's Mendel University where, after five years, he earned a master's degree in 2002 in landscape architecture.
"Landscape artiecture is a unique discipline that requires art skills, a history of art and architecture, plant knowledge, urbanism, ecology, knowledge of natural habitats with plant communities and many many more."
Landscape architecture students had to learn how to recognize and know every plant that grows and could grow in the Czech Republic. "You cannot design a good garden if you don't know the plants — how they grow, mature, color in the fall, how they react. That was the moment when my childhood memories were refreshed and I was completely hooked and knew that I will start a perennial nursery and that perennial plants will be my life."
Rad's nursery in the Czech republic / Rad with native phlox paniculata

Making perennial plants his life
Along the way, Rad also was one of four students chosen to study fine-art photography at the elite Academy of Arts, Architecture and Design in Prague. But, all the time Rad's heart yearned to work with plants. So, after taking a summer job with the Secretseeds seed company in Britain to earn some money, Rad and a friend started a small perennial nursery in southern Bohemia.
Renting an abandoned baroque walled garden in 2004, the two men started transforming the "empty, sad and damaged" 18th century garden into a paradise they named Florianus.
"The name 'Florianus' comes from Latin and means 'to be in full bloom.' and we made that place thrive and bloom," Rad says. "The beautiful old spirit was still present."
However, after 13 years of hard work and little rest, Rad became "burned out" and decided to make a major change in July 2017. He came to America.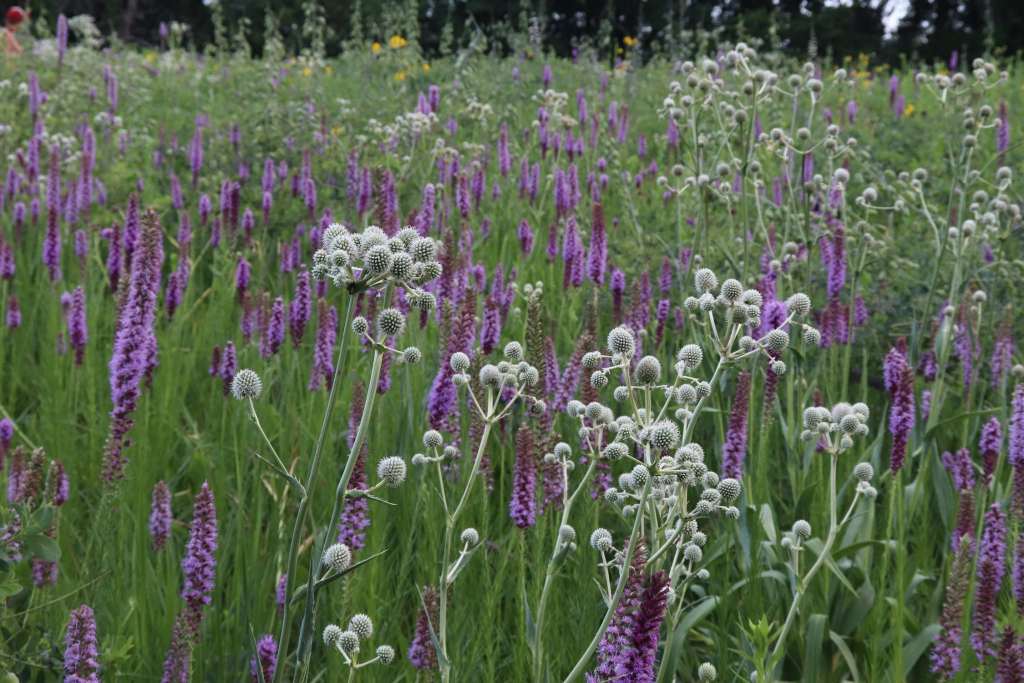 Prairie flowers at a Bloomington home

"I left all my past behind," he says. "But one old Buddhist saying says, 'When you give up everything, you gain everything.' and I did."
With a name like "Bloomington," the Hoosier city seemed meant to be for Rad. After working with Ecologic Indiana LLC in their native plant nursery, Rad was forced to make an unwanted change when Ecologic decided to close their nursery and continue with restoration works only.
"I slowly came to realize that my own little backyard nursery would be the next step."
Thus, US Perennials was born. The company's logo shows the Statue of Liberty holding a flame of Fire Pink flowers. "It symbolizes fire but also wildflower," Rad says. "It's a US native and also means plants for 'us.'"
In his new business, Rad tries to keep in mind an old Chinese proverb that says, "To be happy for an hour, get drunk. To be happy for a year, fall in love. To be happy for life, take up gardening."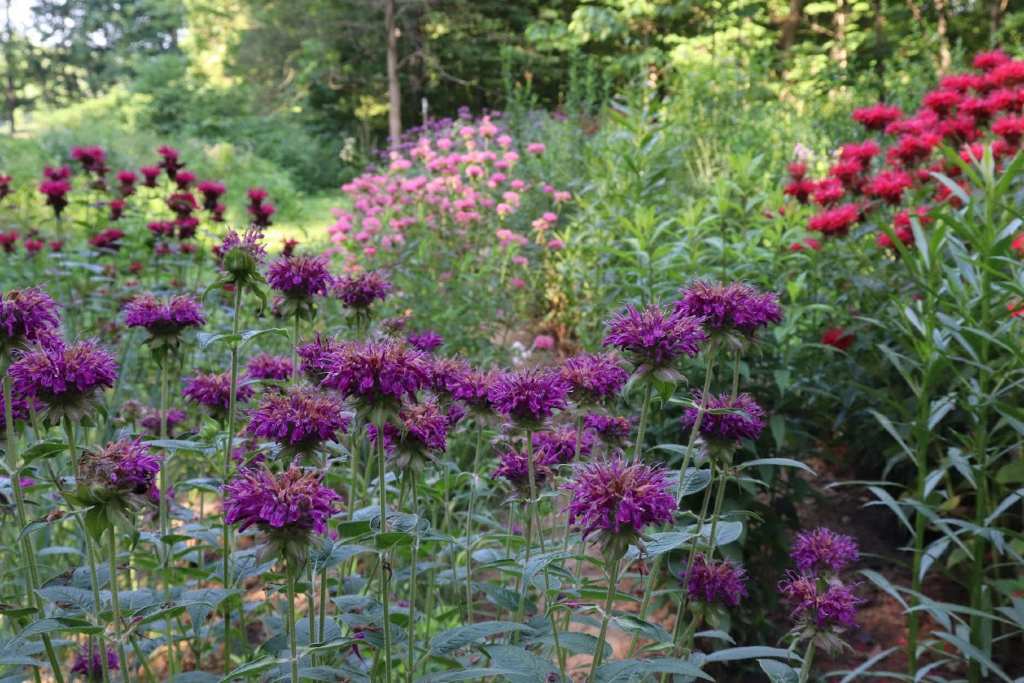 Monarda cultivars in mother stock beds / Propagating plants

"I absolutely agree with that," Rad says. "Gardening is a never-ending learning process…
Gardening will teach you to be modest, respectful and a better person because when you grow plants, you often fail. Something grows too much, something is declining or dying and you don't know why."
But a gardener must move on and start over again, learning from mistakes to try for a more successful result. "Working with plants and soil is also working on yourself," Rad says.
Mail order nursery emphasizes native plants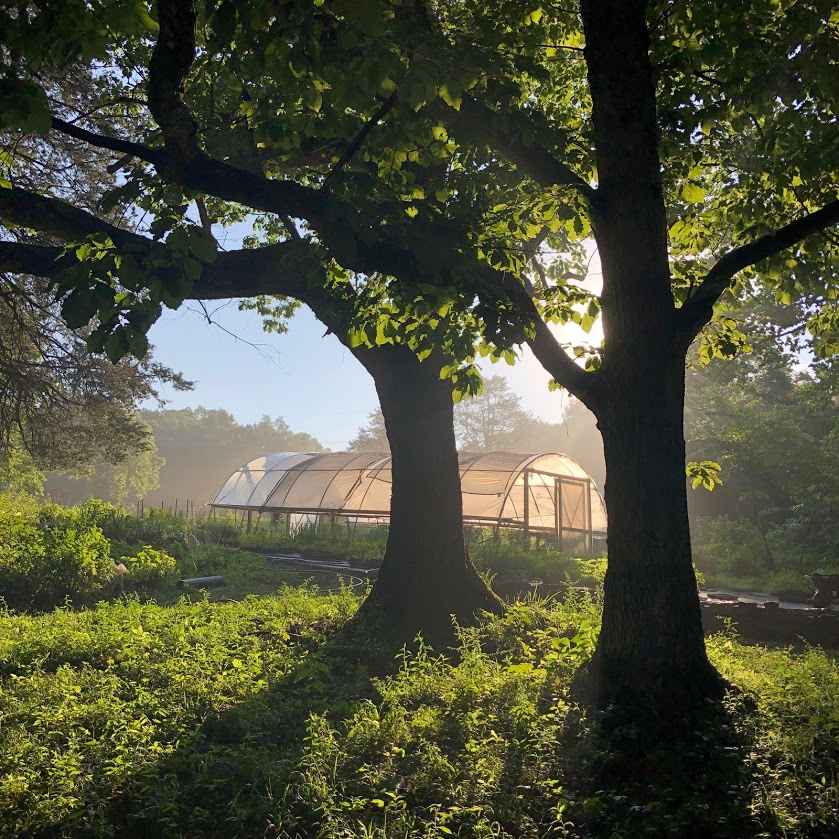 The nursery in the morning light / Plants being shipped with the company logo

Rad's mail order nursery business is mostly staffed by one — himself. And that's the way he likes it. Starting with Indiana native wildflowers, Rad has added native plants from other states that can grow well in Indiana's climate. He also emphasizes "pollinator-friendly" plants.
"I am aware of destructive human powers, and I hope that growing and offering flowering plants that can feed a wide range of insects, pollinators, bees, butterflies, moths and birds is my little contribution to reverse the decline of biodiversity of flora and fauna," Rad says.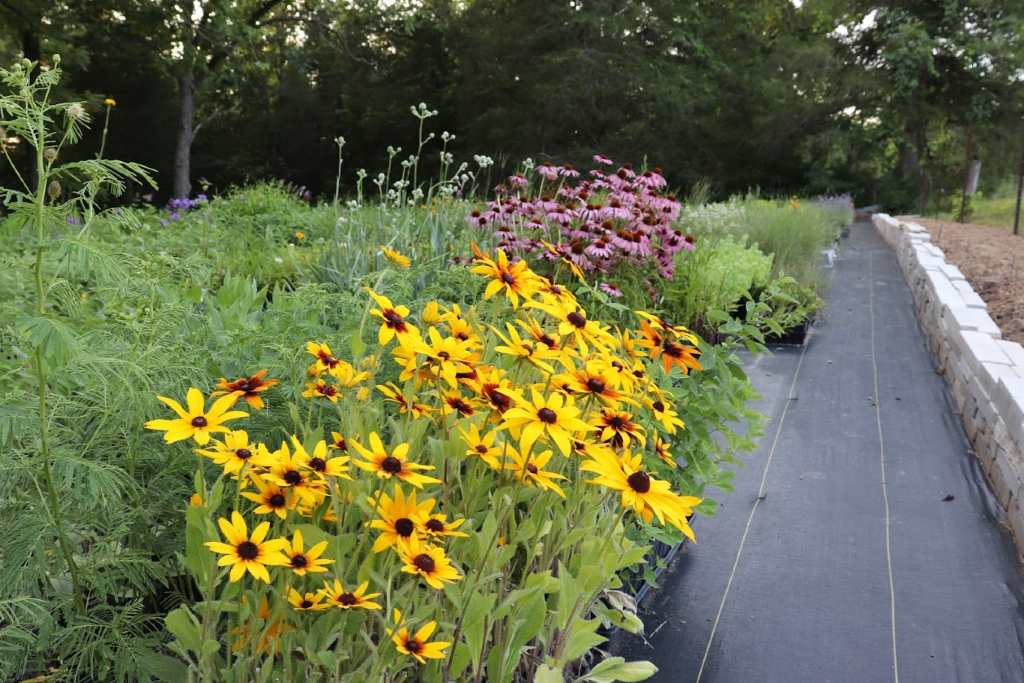 Plants in the nursery

"There are plenty of places that offer daylilies, hostas, bearded irises, hydrangeas and other most common garden plants but not that many places that offer a wide range of natives and nativars," he says.
"So my point of view is let's use in our garden both. We can use more wildflowers or less but have to start using them a lot more than we do now."
Although many people consider wildflowers to be weeds, Rad says North American wildflowers brought to Europe 150 years ago were "highly priced, pampered, propagated, bred and became the backbone of most of the flower beds in Europe."
European flower beds would look dreadful without coneflowers, rudbeckia, phloxes, coral bells and other plants considered as "grandmother's flowers because our grandmothers, great grandmothers and all the older generations were growing them forever," Rad says.
Soup for the soul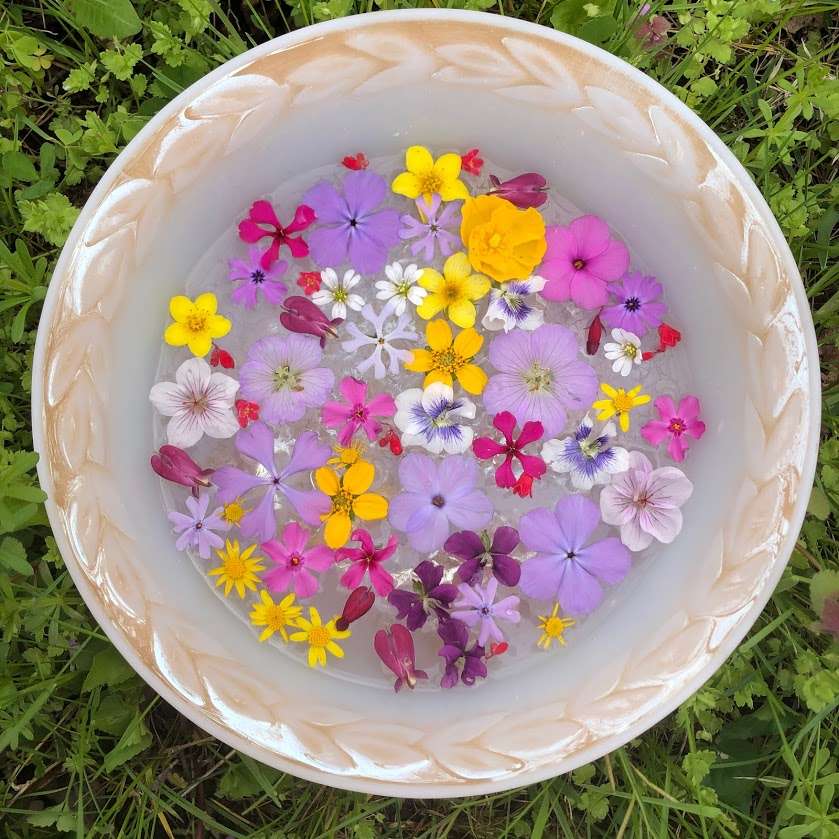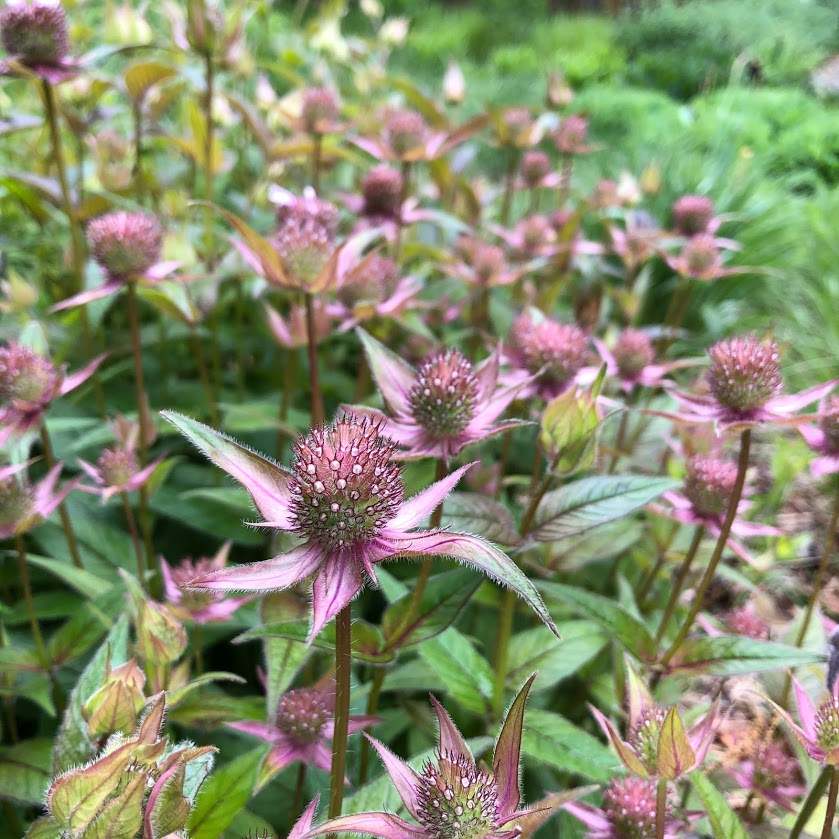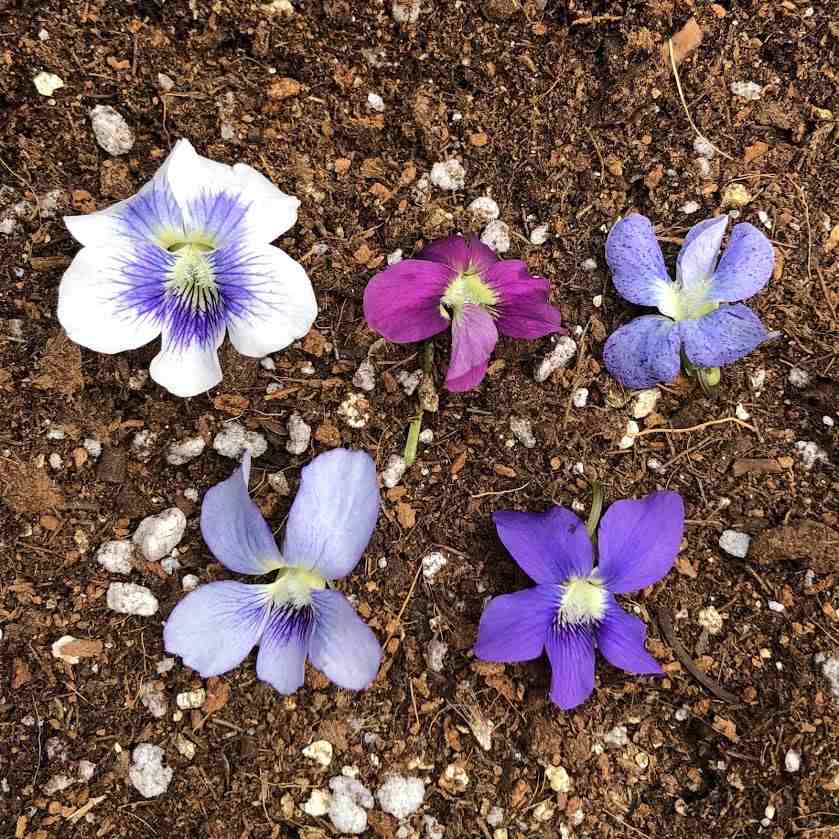 Monarda bradburiana 'Winona' (above) / Common Violet - cultivars (right)
One of his goals is to breed native plants that will grow well in Indiana's climate and still be good for pollinators. As a result, Rad and his friend Andrew Marrs have a new native selection of Eastern Beebalm (Monarda bradburiana) that is "very vital, upright and has lovely purple-pink leaflets before the pink petals develop."
The two men named their plant "Winona" which means "The First Daughter" in the Sioux language. "If there are more successful selections and hybridizations made, I plan to use the Native American names, to dedicate and honor great Indian tribes," Rad says.
Rad also would like to see Bloomington have a public botanical garden. Perhaps even featuring the work of a famous garden designer similar to what Chicago has done with Piet Oudolf's Lurie Garden which attracts millions of visitors a year.
"That could help Bloomington and many businesses, too," Rad says. "And the name 'Bloomington' is really calling for more flowers well organized in a great botanical garden."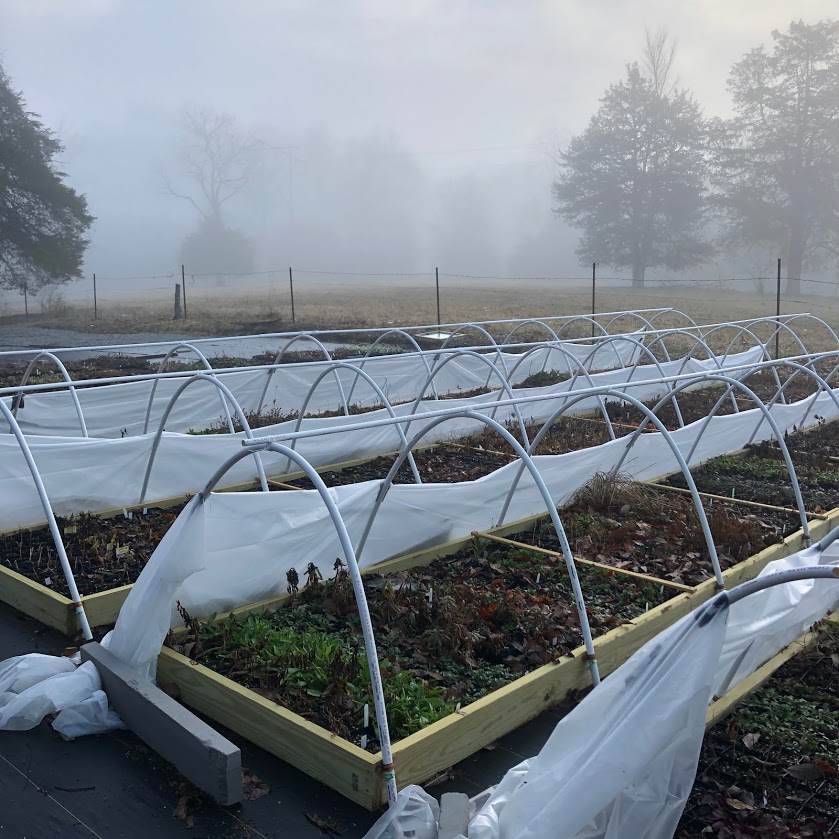 Spring blossoms in the nursery